Vic Nibbler - release 2 (Vic20)
A downloadable Vic 20 game
Vic Nibbler is a new game made in 2019 for the Commodore Vic 20 computer with a 3K RAM expansion. Details on how to load the game in the VICE emulator are included below.
NEW: Release 2 of Nibbler doubles the number of mazes you will encounter and improves the responsiveness of the controls. Gameplay difficulty has been made a littler fairer, so you should be able to get further into the new waves that you might have done before... but be warned, it rewards good players with the same faster speeds!

About the game
Nibbler is an arcade game released in 1982 by Rock-Ola. It was notable for the first game to offer scores over over 1 billion which stirred up some competition for the first person to cross that threshold.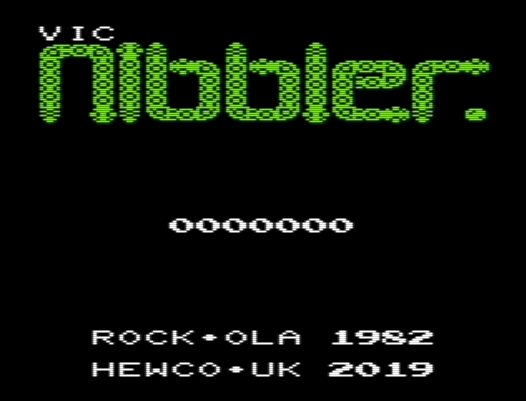 Vic Nibbler is a remake of the arcade game for the Commodore Vic 20 computer (with +3K RAM expansion) and shares many features of the original game.
How to play Nibbler
Nibbler is easy to play, but difficult to beat!
Clear each maze before time runs out
Do not let Nibbler bite itself
Nibbler does not stop at corners
Nibbler grows longer when it eats
Time decreases faster when nibbler does not eat
Bonus is time left at end of wave
Extra Nibbler awarded after 4 waves
Nibbler will slow down a little when you lose a life
Vic Nibbler can be played with keys (Q,A,O,P or I, J, K,M) or with a joystick.
The Vic 20 version does not need to gobble your quarters/10p's so it starts off at a reasonable pace. The difficulty will soon ramp up with each wave. How far can you get?
Hints:
Don't wait at T-Junctions too long, Nibbler will get hungry and the timer will speed up! Eat food as soon as possible!
Hold the joystick or key direction to not miss your turning!
Don't be too greedy, plan your route and ensure you don't get trapped!
Hope you enjoy the game.
Vic Nibbler is also available as a real Vic 20 cartridge at The Future Was 8 Bit, ask them about release 2!
Install instructions
Vic Nibbler will need a real Vic 20 computer with a 3K RAM expansion fitted, or through an emulator on a modern computer.
To play on the VICE emulator in Windows:
Start the xvic emulator.
From the Settings menu, select Vic 20 settings...
From the Memory dialog, select the 3K (block 0) expansion option and click OK.
From the File menu, select Reset --> Hard.
The Vic 20 should now show 6655 BYTES FREE.
Drag the nibbler2.prg file and drop it on the emulator window to autoload it (you can also use the File --> Autostart disk/tape image...).
Enjoy the game!
To play on a real Vic 20 you will need to transfer the PRG file to a format the Vic can read. I've used a SD2IEC card reader to play it.
To play on an SD2IEC card reader you will need to have prepared the SD card with the CBMFileBrowser loader (see instructions that came with your reader or this site) and copy the nibbler.prg to the SD card. Then load your file browser with the BASIC command below and select nibbler.prg to load and start playing:
Release 2 also comes with a cartridge image that goes in Block 5 at address $A000.
Hewco.uk
Find out about more upcoming games at the hewco.uk website or follow my progress on the Hewco Facebook page.
Hope you enjoy the game.